Location, Location, Location !!!
It's Prime !
Sandy Beach – 200m
Accessibility – Bus Stop (30m away)
4/5 Persons - Twin single beds
Double Sofa Bed (lounge) and single pull out bed
2 Balconies – overlooking the main street
Air Conditioning – to lounge and bedroom
Located in the port in Saint Jean Cap Ferrat, a jewel of a "presqu'ile" (nearly-island) between Nice and Monaco. The apartment is positioned centrally in the small village of Saint Jean, just 70 metres from the port and it's many restaurants and 200 metres from the nearest beach.
In the heart of the village of St Jean and 70 metres from the port and its restaurants. Cap Ferrat is 'The Beverly Hills' of the French Riviera (check out the signed photos in the bar at the Grand Hotel, Cap Ferrat).
The fishing boats have disappeared from the pretty port, replaced by private yachts. A small footpath leads from the village to the Plage de Passable. The nearby lighthouse is open to the public and if one is energetic enough to climb the 164 steps to the top, the views are magnificent, allowing one to see into the beautiful exclusive film star's and personalities private gardens of the Cap that are obscured by fences on ground level.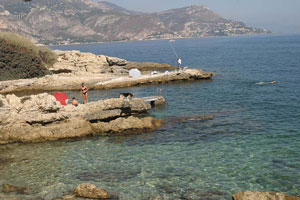 Perhaps the most spectacular of all the residences built on the Cap, the pink and white Musée Ephrussi de Rothschild was constructed by the Baroness Ephrussi de Rothschild at the turn of the century. She built the villa to house her large art collection and now, as a museum, the house contains over 5000 works of art. The collection of 18th century furniture, porcelain and paintings is impressive. The museum is set in 17 acres of gardens with views of the Cap on all sides. The gardens contain a cactus grove, Italian garden and a particularly impressive Japanese garden.